Bagpipers may find themselves at this site looking for my bagpipe music manuscripts. This is an evolving archive of over 100 tunes for the Great Highland Bagpipe I've written over the years. The electronic archive is only partially complete, with some 60 tunes still in the queue for recording, and 30 tunes waiting to be typeset.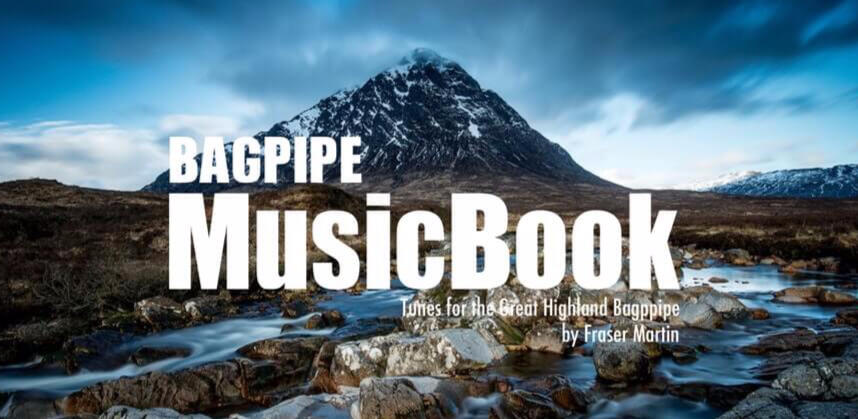 Progress
Third Edition (pending)
The next iteration of the book is in progress. This edition will contain 75 scores. The third edition has been entirely typeset and requires the addition of recorded audio for the new additions. While I could release the typset book without the audio, I feel that this may preclude many pipers who may not read music so well. Some live by audio alone. So, as they say, watch this space...
Second Edition
At long last, I'm seeing some progress in completing the Bagpipe Music Book. The second edition has now been released and contains 40 scores with accompanying audio. The original 14 scores have also been re-typeset to maintain a common look and feel across the book. I've written some more music and discovered a bunch more in forgotten folders and tape recordings, so my original estimate has been revised. This edition brings the archive completion status to around 40%. With the current COVID-19 restrictions in place, it is very likely that the archive will be brought up to date over the next few months.
I provide this music for free as a means of giving something back to the bagpiping community that I grew up in. So please feel free to help me out by posting a social media message to your favourite platform about this new update, and encourage people to visit  the Bagpipe Music Book website and register for their own free copy with updates.
Thank you for your patience, stay safe during this period, and keep on piping!
Second Edition Tune List
Hornpipes
Acrobat, The
Betwixt and Between
Bohemian Piper
Coondoo Street
Crusts of Salt
Mareeba Man
Pocketful of Dollars
Red Thunder
Tourist, The
Victoria Street
Jigs
Bear and The Bee, The
Derek The Peacock
Down The Souk Market
Kick The Peever
Little Jammy Fingers
Roxy MacLean's Jig
Skelpit Heid
Two Shots of Black
Marches
Barefoot Through Brisbane
Barefoot Through Brisbane (+ harmony)
Blair Stewart
Castles in the Sky
Doug Lawrie
Drums of Independence
Eimeo Creek
Great Hall of Edinburgh Castle, The
Great Muster, The
Hills of Caravonica, The
Hugh Goldie's Farewell to Port Douglas
Kangaroo Point
Lights of The Story Bridge
Wee Callum Graham
Pop/Dance
Amazing Grace 140º
Reels
Baila Conmigo
Fannie Korminski
Kinlodden House
Roxy MacLean
Skipping Path, The
Slow Airs
Amazing Grace (3 part harmony)
Jessie Martin's Air
First Edition
The first edition contained only 14 scores and was rather tentatively released to gauge the feasibility of  the project. The uptake was good and so work commenced on the second edition.