Propellerhead Take 2
I just wrote my review two days ago after using this great little app for a few weeks. I had a few little niggles like most people. But it seems those niggles have been addressed in the latest update of this wonderful little creative tool.
So what's new in version 2.0?
Pitch correction for vocals
Like all pitch correction, it should be used sparingly. A simple slider, from OFF to SLOW through to FAST. With the results going from natural to robotic. I found a small amount of voice correction not unpleasant.
There is a setting in the audio settings of the app to globally force voice tune. But doing so will disable transpose of beats with unknown tonality built in – which is probably most of them. So I'd leave it off and use it on a case by case basis. Remember it's only for capturing ideas.
More effects
I wrote in my original review that having just a simple spatial reverb was all that was needed in a musical note taking app. Having tried the new effects, I both agree and disagree with my earlier statement.
There are about 20 effects – most of them aimed at vocals. But then this is primarily a vocal recorder. Like the previous version of the app you have a wet & dry slider and single slider to control a single parameter of the effect, usually from one extreme to the other.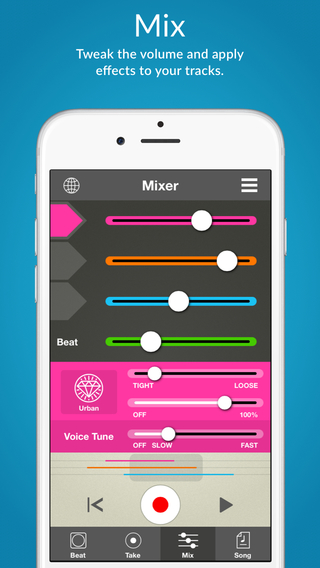 There is an acoustic instrument effect which gave my acoustic bouzouki - yes, you read that right - an instant makeover, punching out some of the mids taken away by the simple iPhone microphone.
A simple harmoniser effect gives a good stab at adding some simple harmony. But I suspect, like voice tune, you have to lock in a key in the background beat for best results.
I added a track with bass guitar through an amp and the iPhone placed just off to the side and found a very acceptable result with the Instrument, Funky and Punk effects.
The drummer of course was courtesy of the various background beats that come with the app – and he was on time. Adding some more percussion, like tambourine onto one of the other tracks was easy and fun. And this is where the new effects started to shine. Without the addition of effects the tambourine would have been so hard-edged that I would have wanted to leave it out of the mix completely.
As you might expect, I spent a long time fiddling with the effects. This is a slight downfall I think. It is time not spent creating. But the effects were useful and in their own way led to some more creativity, albeit a little diversionary.
Like all musicians I am an FX junkie, so it has to be a thumbs up (rolling eyes).
Mastering presets and Audio Trim
Exporting the song, or dropping the song, to Propellerhead's online community server, is where you will find the mastering presets. And they are presets only. No fiddling allowed - yay! There are 7 presets and an option to have no mastering applied at all. The presets were descriptively named and would be useful for different types of songs.
One further addition is the ability to trim the start and end points of the song or loop at this stage. This is a nice addition but I found it fiddly if the song wasn't already tidied up using the erase function. Advice – tidy up those track ends with the erase function first if you happen to have your recordings spread out along the timeline.
Transposable backing tracks
Certain backing loops can be transposed. They have a little tuning fork icon beside them in the beat browser to identify them.
But most useful is when you import a flattened backing beat from the community server as part of a collaboration. You then have the option of changing the tempo or the key. But you have to do this before you make your first track recording over the top of it. Once you hit record you are locked in. Unless of course you start over, or bounce the song off the server.
There are some caveats to using key change if you use voice tune or enforce voice tune globally. If it's something you are likely to do regularly then read the manual first.
Verdict
This is a great update, well rounded with useful features.
There are so many recording apps out there, so many development companies trying to squeeze a full blown DAW into our pockets. Some of them manage it, hats off to them. But they miss the point. The iPhone is just that, a phone. It follows us around, everywhere, takes calls, sends messages, takes photos and takes notes. In this case musical notes.
I don't think DAWs belong on devices as small as an iPhone. But simple, well-rounded, functional apps like this one do.